What we do
Nordic Marine Solutions has operated as a market leader since 1937 in the fields of independent inspection, surveying and technical consultancy towards the maritime industry in Norway and abroad. Our core activity was from the start centred around inspection and cargo supervision in connection with export and import shipments of grains, oilseed and feedstuff to silos and producers in Norway. Services toward the Agri segment, fish farming and aquaculture is still a major part of our activity, but within the last two decades we have expanded significantly, and our services and expertise now encompass a wide range of areas within the technical marine, shipping, loss prevention and insurance industries.
Along the way we have gradually increased the knowledge capital and competence in our company and our surveyors, technical staff and industry experts, all with backgrounds from the maritime or insurance sectors, make us able to provide our customers with services to the highest standard.
As an ISO 9001 certified company, and a member of several recognised associations such as GAFTA and FOSFA, all our activities are carried out in accordance with current international standards and industry specifications.
Our locations
Nordic Marine Solutions is represented with offices and local surveyors all along the norwegian coast, from the swedish border in south-east to the russian border in the north. Our main administration and operational center is located in the south-east Norway, together with surveyor hubs in strategical locations on the west coast, central and northern parts of Norway.
We maintain an extensive network of partners throughout Europe in ordre to serve our international clients as well as our Norwegian groupe of clients.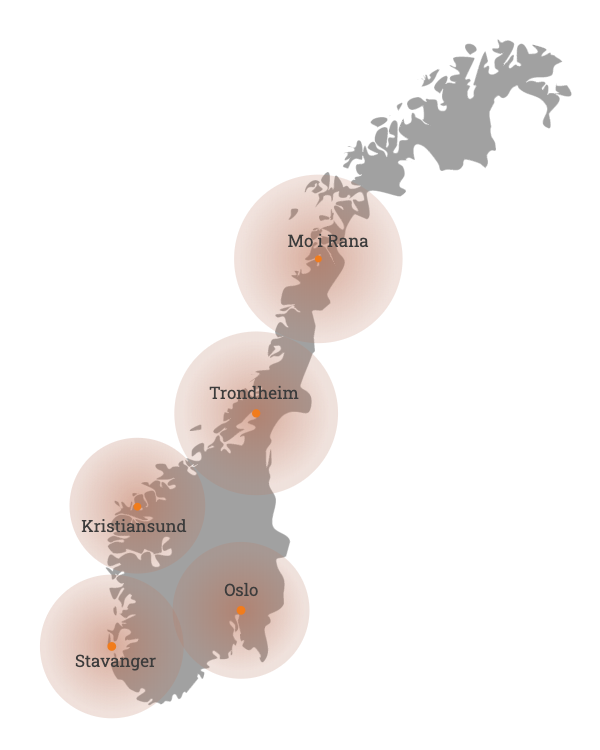 Company History
Nordic Marine Solutions was established in 1937 as an independent inspection company performing inspection services in connection with loading and discharging, mainly of grain cargoes for food consumption and raw materials for animal feed production. We quickly developed to be the market leading inspection company for this type of shipments along the Norwegian coast. The company gradually expanded and over the years it gained comprehensive knowledge and experience within the maritime industry in general.
In 2005 we were ISO certified and gradually the focus was put on the marine surveying segment. In 2007 our marine department was established allowing us to provide an expanded set of services directed toward shipowners, charterers, marine underwriters and other parties in demand of services of a marine-technical nature.
For many years we experienced an increase in the requests for insurance related services and in 2016 our claims department was formally established giving us the ability to provide a comprehensive set of services throughout the line of marine, marine-technical, insurance, loss prevention and claims handling disciplines.
Certifications
With a number of international recognized certifications we constantly hone our processes, maintaining our commitment to the ongoing improvement of Nordic Marine Solutions' operations and services.